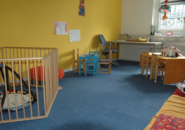 GEO-building room 1420 on level 1 is equipped for
child-care by parents
. Children at ages from six months to 12 years may play there. The room may be used by faculty members, students and guests. In the room you will find a diaper changing table. Toilets and a kitchenette are available nearby.
For legal reasons, the child-care room is not intended for regular use, but
only for special occasions
, e. g. in connection with promotions and colloquia, classes outside the normal teaching hours, conferences and workshops.
Terms of Use
Please note that you use the room at your own risk. Children must not be left there without any supervision! The room is approved for max. 6 children.
The use of the room under parental supervision is free of charge for all members of FB 5 / MARUM.
Please always enter your name into the available list to document your usage.
From guests we ask for a service charge of 1 € per child and hour.
Further Information
You find a second, always accessible diaper changing table in this building in room GEO 1530 (WC for disabled persons in the main entrance).
https://www.uni-bremen.de/de/studieren-mit-beeintraechtigung/projekte/lageplanprojekt-campus-barrierefrei/geb%C3%A4ude/geowissenschaften-geo.html
Information on studying with children and on-campus child-care facilities can be found on the webpage
https://www.uni-bremen.de/de/familie/familiengerechte-hochschule.html