August 2019
Michael Fischer has been serving as guest editor on a special issue of Z.Kristallographie - Crystalline Materials.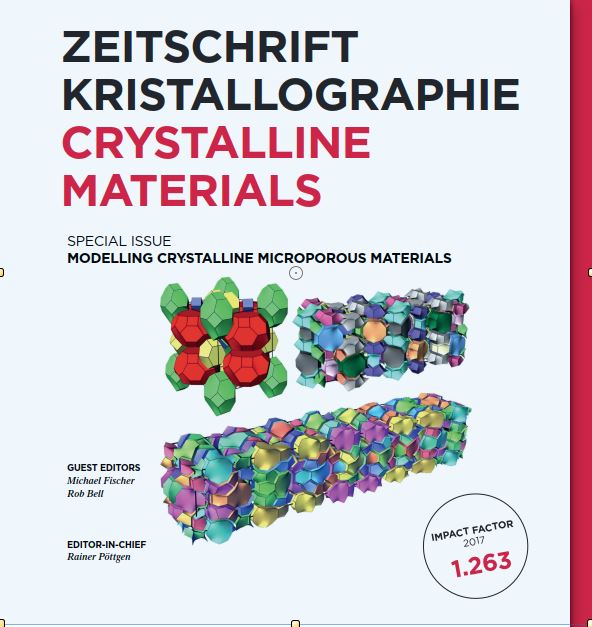 July 2019
We sent several member and students of our group to lecture or participate in the DGK-AK20 Summer School "Synthesis and characterization of functional inorganic materials".
25.03.2019
We sent a large group of scientists and master students to the 27th Annual Meeting of the German Crystallographic Society (DGK) in Leipzig. See in particular the "Young Crystallographers Lightning Talks I and II" sessions.
21.05.2018
We (Dr. Michael Fischer) start a 3 year funded DFG Project: Beyond tetrahedral coordination in zeolite-type materials - A computational approach Link.
6.3. 2018 We welcome Prof. Dr. Henrique Senna Diniz Pinto, University of Goiás (UFG/Regional Catalão), Brasil for a two month guest stay.
February 2018
Reinhard X. Fischer becomes (Vice) President of the Deutsche Mineralogische Gesellschaft. See DMG
Webpages
, Geosciences Department
Link.
Nov. 2017 We were able to provide quality control on absolute ages (e.g. calcite instead of preferred aragonite content) for Bonaire corals used for climate reconstructions published in Scientific Reports: see Wu, H.C. et al., 2017. Changes to Yucatán Peninsula precipitation associated with salinity and temperature extremes of the Caribbean Sea during the Maya civilization collapse. Scientific Reports, 7(1): Paper 15825 (12 pages), https://doi.org/10.1038/s41598-017-15942-0.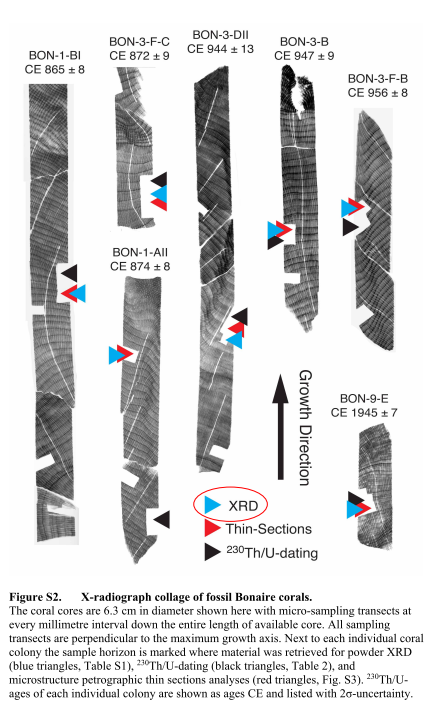 1.6.2017 On June 1st Dr. Rosa Danisi joined the crystallography group at the faculty of geosciences as a postdoc. She finished her study of geosciences in 2011 at the University of Milan in Italy with a master thesis on tourmalines. Then she went to the University of Bern working on the dehydration behavior of natural zeolites and zeolite-like materials as a PhD candidate. As a postdoc at the University of Utrecht (the Netherlands), she worked on phosphorous-stabilized synthetic zeolites to enhance their hydrothermal stability during catalytic processes. Finally, with a grant from the Swiss National Science Foundation, she is going to study the thermal behavior of vanadium-bearing porous frameworks at the University of Bremen until November 2018. (only in German)
28.4.2017 We could publish an article in a Nature journal: Nature Communications (DOI: 10.1038/ncomms14879).
Title: The inheritance of a Mesozoic landscape in western Scandinavia
Authors: Ola Fredin, Giulio Viola, Horst Zwingmann, Ronald Sørlie, Maro. Brönner, Jan-Erik Lie, Else Margrethe Grandal, Axel Müller, Annina Margreth, Christoph Vogt & Jochen Knies.

Part of Fig. 2 of the paper.
The press release of the NGU states: An international research team lead from the Geological Survey of Norway (NGU) has just published a research article in the prestigious journal Nature Communications. Here the authors describe results from experiments with dating illite clay formed during chemical weathering of rock using the K/Ar (Potassium-Argon) geochronological dating method. This has rarely been tested before and is thus a scientific breakthrough with interesting geoscientific implications. The K/Ar dating method has long been used by geologists to date formation of rocks, or strictly speaking when the molten lava cools and becomes solid rock. However, the methodological advances described in the paper allows for dating of extremely fine grained material such as formation of the clay mineral illite. Clays form as secondary minerals when rock weathers through chemical interaction with water. Rock weathering is a fundamental part of the geological rock cycle disintegrating bedrock and producing sediments. It is also a critical concept in geomorphology - the study of origin and evolution of earth surface topography and landforms - where chemical weathering is an important landscape forming agent creating so called etch surfaces. With these advances it is thus now possible to obtain an age of when rock was weathered and a landscape formed. ….
1.2.2017 We welcome Dr. Matthias Forwick, Head of the Department of Geosciences, University of Tromsø for a sabbatical stay with our group (Febr.-April 2017)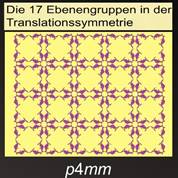 Nov. 2016 Kristin Hoffmann finished her PhD thesis, see project webpage.
6.9.2016 Li Wang successfully finished her PhD defense on "The thermal stability and crystal structure of K, NH4 exchanged Zeolite A".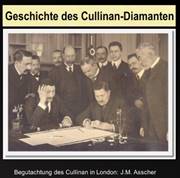 1.8.2016 Stephan Lenz (to the right on the picture below) starts his PhD project with us.
1.2.2016 Two guests from Poland are visiting us in February and March: Filip Formalik and Adam Olejniczak from Wroclaw University of Technology have come to Bremen in the framework of the Erasmus+ program. Together with Michael Fischer, they conduct molecular simulation studies of adsorption in zeolites.
30.9.2015 The first students of the international Master of Science Materials Chemistry and Mineralogy finished this year: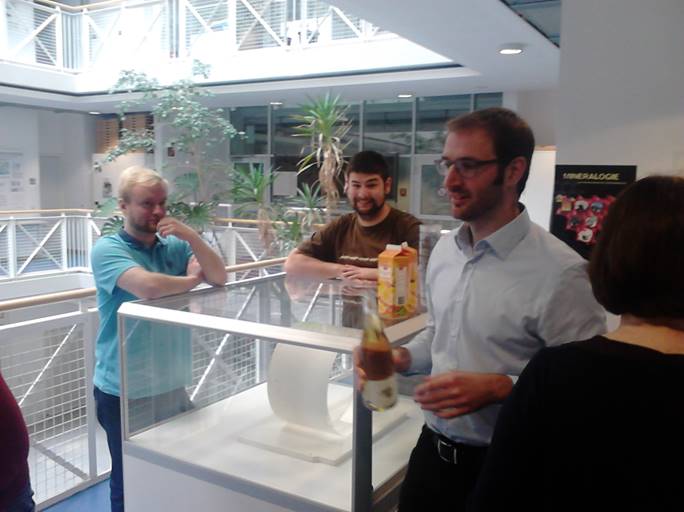 17.9.2015 The most prominent exhibition element "Zweiohrhase" (by terms of press coverage, an amethyst druse 1.5 m) has returned to Mainz
3.9. 2015 Freunde der geowissenschaftlichen Sammlung besuchen KRIMI-Ausstellung: Eine Führung durch die faszinierende Welt der Kristalle, Minerale, Materialien und historischen Instrumente.
24.8.2015 The PR of the University of Bremen has released a video on the crystallographic exhibition "KRiMI": see PR release and video hier (dt) and here (en).
11.7.2015 We participated in the OpenCampus 2015 Day. See also web.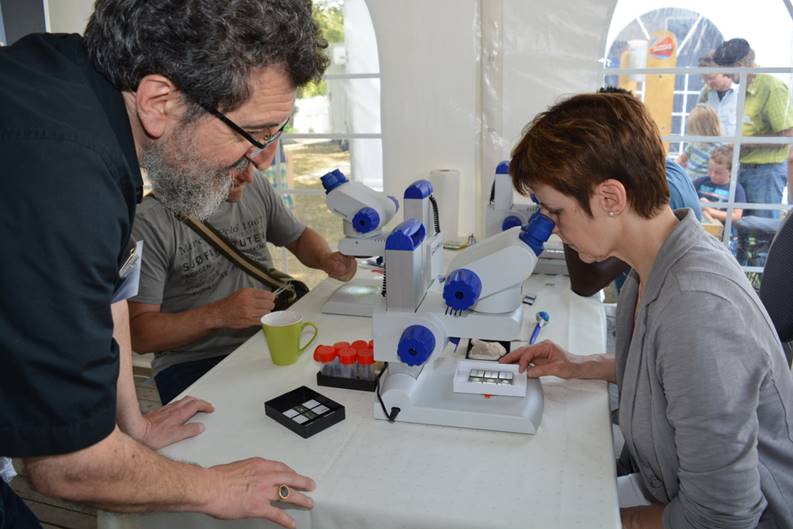 04.04.2015 Reinhard X. Fischer is co-editor on a Special Issue on zeolites of the Zeitschrift für Kristallographie - Crystalline Materials Band 230, Heft 4+5. See preface online.
01.03.2015
In a new publication our group defines a new mineral called tentatively "Sillimullite" from a natural outcrop in the Eifel region.
See Fischer, Reinhard X., Tikhonova, Valeria, Birkenstock, Johannes, Fischer, L.A., Herrmann, K., Mengel, K. & Schneider, Hartmut, 2015. A new mineral from the Bellerberg, Eifel, Germany, intermediate between mullite and sillimanite. American Mineralogist, 100(7): 1493-1501, http://dx.doi.org/10.2138/am-2015-4966.
01.02.2015
Am 23. Februar um 18 Uhr wird der Bremer Studienpreis im Bremer Rathaus an unsere Kollegin Dr. Hanna Lührs verliehen. Sie hat ein von der Zentralen Forschungsförderung finanziertes Promotionsvorhaben durchgeführt, in dem sie Bor-dotierte Mullite hergestellt und charakterisiert hat. Mullite gehören zu den wichtigsten keramischen Materialien und werden insbesondere im Hochtemperaturbereich, z.B. in den Hitzeschilden der Raumfähren eingesetzt. Durch Dotierung mit Bor konnte der thermische Ausdehnungskoeffizient drastisch reduziert werden. In fünf Publikationen in internationalen Zeitschriften werden die Ergebnisse umfassend dargestellt.
14.05.2014
Weitere gute Entwicklung im Jahr der Kristallographie: das Kristallzuchtlabor - ein Geschenk der Uni Köln- konnte eingeweiht werden.
11.02.2014
Die Universität Bremen stellt unsere Arbeitsgruppe und das Fach Kristallographie in ihrer Web-Kolumne ""Kennen sie schon…." vor. Web. (only german, the University features crystallography in their blog "did you know…").
1.02.2014
Wir begrüßen 3 neue Mitarbeiter mit neuen DFG und Universität Bremen geförderten Projekten (we welcome 3 new colleagues funded by German Science Foundation and University of Bremen): Dr. Hanna Lührs, Dr. Manfred Burianek (seit 1.11.2013) und Dr. Michael Fischer.
11.01.2014 We had a Master of Materials Chemistry and Mineralogy yearly alumni and first semester party with an extended buffet and about 35 visitors: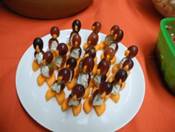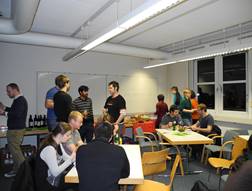 16.09.2013
Prof. Reinhard X. Fischer erhält mehrere Auszeichnungen, mehr dazu in der Presseerklärung der Universität Bremen: web (only german, Prof. R.X. Fischer received multiple honours).
.
08.07.2013
3 of us are representing new research and the group newest software ZeoBase at the 17th international zeolite conference in Moscow, Russia.
10.04.2013
Heute abend um 17:00 h wird in einer kleinen Feierstunde auf unserem Flur, 1.Stock, Geo II Gebäude, die Urkunde an Prof. Dr. Hartmut Scheider, DLR und Universität Köln, als "Fellow of the University Bremen" im Beisein des Rektors der Uni Bremen, Prof. Dr. Scholz-Reiter, dem Dekan des FB05, Prof. Dr. Kai-Uwe Hinrichs und geladenen Gästen übergeben. Wir können damit Prof. Dr. Schneider als neues Mitglied unserer Arbeitsgruppe begrüßen. (Prof. Dr. H. Schneider receives the "Fellow of the University of Bremen" honor today and joins our research group). Presseerklärung der Universität im web.
12.03.2013
Unsere Gruppe hat dieses Jahr wieder den Schülerwettbewerb "Jugend forscht" in Bremen unterstützt. Dr. Iris Spiess war zum wiederholten Mal als Juror unterwegs. Außerdem standen wir einer Teilnehmerin bei einem Kristallisationsexperiment mit Rat und Tat zur Seite. (We helped as juror and experiment tutor for the Bremen part of the German-wide science contest of pupils "Jugend forscht").
01.06.2012
We have a new single crystal X-ray diffractometer Bruker D8 QUEST.
03.04.2012
We welcome 2 new members of the group. Kristin Hoffmann will do PhD research in a DFG-funded project. Dr. Abdel Monem Mohamed Soltan returned for a DAAD funded half year guest scientist stay (see latest publications of us on quicklime and concrete research: doi:10.1179/1743285511Y.0000000024; doi:10.1007/s00710-011-0151-0).
15.02.2012
We will introduce a new international 2 year master program in autumn 2012 "Materials Chemistry and Mineralogy".
15.12.2011
Man kennt ja das Jahresendzeitsyndrom bei der privaten wie institutionellen Beschaffung. Bei uns erstreckt sich das Syndrom dieses Jahr aber auch und insbesondere auf die Publikationstätigkeit. Sei es über die Entwicklung neuer Sensoren mit den Kollegen aus der Produktionstechnik (online), die vielfältigen Erkenntnisse aus unserem Verbundprojekt über mullitähnliche Bismutverbindungen (im Druck befindlich), die technische Nützlichkeit verschiedener ägyptischer Kalksteine für die Zementindustrie (doi:10.1179/1743285511Y.0000000024; doi:10.1007/s00710-011-0151-0), weitere Publikationen zur Chemie und Kristallstruktur von Zeolithen (online) oder Diagenese und Paläozeanographie aus Sedimenten des Arktischen Ozeans (a: online; b: online). (17 publications have been finished in the last quarter of 2011, see our publication web page here).
01.09.2011
Im September 2011 können wir zwei neue Mitarbeiterinnen begrüßen. Dr. Iris Spieß wird sich um die Entwicklung von neuen Mineralphasensynthesen kümmern und Li Wang ist neue Doktorandin mit einem naturwissenschaftlichen Stipendium Chinas. Sie wird sich im Zeolith-Forschungsschwerpunkt unserer AG betätigen. Eine Kurzbeschreibung ihres Projektes finden sie unter unserem AG-Menüpunkt Projekte. (We welcome two new members of our group: Dr. Iris Spieß and PhD candidate Li Wang whoes project will be nested in our major research theme zeolites. More info here).
01.05.2011
Beide kristallographisch ausgerichteten Gruppen der Universität Bremen haben ein kristallographisches Seminar eingerichtet. Jeden zweiten Dienstag um 10:15h in Raum 5590 werden aktuelle Forschungsthemen diskutiert. Themen und Termine bei Gabriele Ebert (


). (We initialized a new Bremen Crystallography Seminar every 2nd Tuesday, more information via Gabriele Ebert).
01.02.2011
Wir freuen uns mit unserem nun ehemaligen Mitarbeiter Prof. Dr. Thorsten M. Gesing über seine Berufung auf die neu eingerichtete Professur "Chemische Kristallographie fester Stoffe" im FB 02 Biologie/Chemie. Dies bedeutet aus unserer Sicht eine klare Stärkung kristallographischer und materialwissenschaftlicher Untersuchungen innerhalb der Universität Bremen. Infos zu Prof. Gesings Forschung siehe www. (Prof. Dr. Thorsten M. Gesing moved to a full professurship "Solid State Chemical Crystallography" in the chemistry department of the University Bremen, http://www.ckfs.uni-bremen.de/, www).
19.11.2010
Auch im dritten Jahr haben wir wieder in einer Studienfeier die Erstsemester des Master of Science in Materialwissenschaftlicher Mineralogie, Chemie und Physik begrüßt und unsere Absolventen geehrt. Das Fest mit um die 50 Leuten konnte wie bisher immer in der "Kapelle" stattfinden (For the third year we were able to have an inaugural party for the first semester students combined with a formal good bye for the graduated students off the MMM-CP master courses).
23.4.2010
Ein neues Pulverdiffraktometer Bruker D8 Advance (Mo,Cu-Tube), mit wechselweise Bragg-Brentano & Transmissions- Geometrie, beschafft durch die AG Mädler, FB4, läuft in unserem Labor nun im Regelbetrieb (There is a new High Tech Powder and Transmission Diffractometer in our labs gained through support and cooperation with AG Mädler, FB4, Process and Chemical Engineering, IWT Foundation Institute of Material Science).
10.03.2010
Wir begrüßen MSc. Aydin Rüşen als Gastdoktorand für einen ca. einjährigen Aufenthalt (A. Rüşen joins our team for about a year as part of his PhD thesis studies).
17.02.2010
Im Rahmen unseres interdisziplinären Masterstudienganges MMM-CP arbeiten wir immer wieder mit Kollegen aus den beteiligten Fachbereichen Chemie, Physik und Produktionstechnik zusammen. Als Folge dessen können wir gemeinsame Publikationen erarbeiten wie zum Beispiel jüngst Dr. Johannes Birkenstock (siehe auch unsere Projekt- und Publikationsseiten/ Multiple cooperations exist with Science and Production , Mechanical & Process Engineering Departments of Bremen University. These scientific cooperations sometimes culminate into cooperative publications like the new one of Dr. Birkenstock):
Pokhrel, S., Birkenstock, Johannes, Schowalter, M., Rosenauer, A., Mädler, L., 2010. Growth of Ultrafine Single Crystalline WO3 Nanoparticles Using Flame Spray Pyrolysis, Crystal Growth & Design, 10 (2) 632-639. http://pubs.acs.org/doi/abs/10.1021/cg9010423
16.12.2009
Nach erfolgreicher Reparatur unseres Pulverdiffraktometers X´Pert Pro MPD konnten wir die durch die AG Bohrmann neu beschaffte Kühleinrichtung für unsere Tieftemperatur-Kammer TTK450 testen. (We have a new deep temperature device for our powder diffraction machine X´Pert Pro MPD)
21.11.2009
Auch dieses Jahr haben wir in einer Studienfeier die Erstsemester des Master of Science in Materialwissenschaftlicher Mineralogie, Chemie und Physik begrüßt und unsere Absolventen geehrt. Das Fest konnte wieder in der "Kapelle" stattfinden. Siehe: Webfotoalbum.
21.10.2009
Im zweiten Jahr seines Bestehens erfreut sich unser Masterstudiengang Master of Science in Materialwissenschaftlicher Mineralogie, Chemie und Physik zunehmender Beliebtheit, wir können nun 15 Erstsemester incl. 2 Rückkehrerinnen von Auslandssemestern begrüßen (und liegen damit bereits bei der in der Akkreditierung genannten Zielanzahl für den MMM-CP), während weitere 3 Abschlüsse im MMM in den letzten Monaten stattgefunden haben. Außerdem begrüßen wir MSc (MMM) Hanna Lührs als neue Mitarbeiterin mit ihrem Promotionsprojekt Bor-Einbau in Mullit. (Our Master Course Material Sciences-Mineralogy,Chemistry,Physics is doing well and we have a new PhD student: Hanna Lührs).
20.9.2009
Die AG ist mit 4 Mitarbeitern & 2 Masterstudenten und ihren Präsentationen auf der 87. Tagung der Deutschen Mineralogischen Gesellschaft, 13.– 16. September 2009, Martin-Luther-Universität Halle-Wittenberg. Mehr zur Tagung hier.
15.7.2009 Die AG hat eine neue (new) Fax-Nummer: 0421 218 65189.
1.3.2009
Die AG ist mit 5 Mitarbeitern & 5 Masterstudenten und ihren Präsentationen auf der 17. Jahrestagung der Dt. Kristallographischen Gesellschaft (DGK) in Hannover vertreten. Mehr zur Tagung hier.
17.12.2008
Tanja Klein schließt als Erste den seit 2 Jahren laufenden Masterstudiengang Master of Science in Materialwissenschaftlicher Mineralogie erfolgreich ab.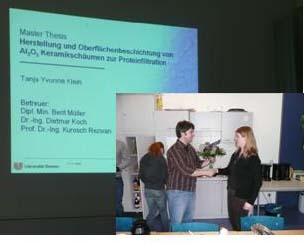 7.11.2008
Mit einer Festveranstaltung werden die Erstsemester des neu eingerichteten Studiengangs Master of Science in Materialwissenschaftlicher Mineralogie, Chemie und Physik empfangen. Darüber wird auch im Weserkurier berichtet.
1.6.2008
Wir beginnen mit einem neuen DFG-Verbundprojekt, dass durch Prof. Dr. R.X. Fischer, Prof. H Schneider und PD Dr.T.M. Gesing koordiniert wird. Mehr: BiMO
19.5.2008
Der Studiengang Master of Science in materialwissenschaftlicher Mineralogie (MMM) wird zum Master of Science in Materialwissenschaftlicher Mineralogie, Chemie und Physik -- weiterhin unter der Federführung von Prof. Dr. R. X. Fischer und getragen von Hochschullehrern aus nun vier Fachbereichen -- erweitert. Er steht zum Wintersemester 2008/2009 offen, weitere Informationen zur Bewerbung usw.
siehe http://www.geo.uni-bremen.de/page.php?pageid=488