Kristallogrpahie & Geomaterialforschung
.
News of the Crystallography & Geomaterials Research Group
August 2022
We welcome 3 new researcher associated with our group: Lobna Saaed, JakobBrauer (PhD students in the
Crystalline Microporous Materials
group) and Dr. Paul Klar (own research group on Materials Mineralogy themes).
June 2022
We welcome Prof. Juan Manuel García-Ruiz as guest lecture in the Geoscience Department
colloquium
on Wed 8. June at 12:15 in GEO1550 (
The formation of giant gypsum crystals: nucleation, growth and preservation
). In recognization of his immense achievements, the German Crystallgraphic Society has recently awarded Juanma the
Liebau-Prize
for the Promotion of Interdisciplinarity in Crystallography. To celebrate this award and to allow for a lifely exchange of opinion and ideas, there will be a reception with beverages and finger food after the lecture just outside of the lecture hall. (Source: FB05 Geoscience Department Web Page)
May 2022
We offer a PhD job for 36 month in cooperation with MARUM on OLIVINE solid solution series and compounds. Materials with the olivine structure are frequently studied for various applications. If you are interested in crystallography and want to look for some diffuse scattering, please get in touch with us as the deadline for application has passed.

April 2022
Our team member Prof. Dr. Hartmut Schneider will receive the Georg-Agricola-Medal for his scientific research on Applied Mineralogy by the Deutsche Mineralogische Gesellschaft.
Check the information of the German Mineralogical Society
DMG
October 2021
Reinhard X. Fischer retires (not quite yet)

See department
news
.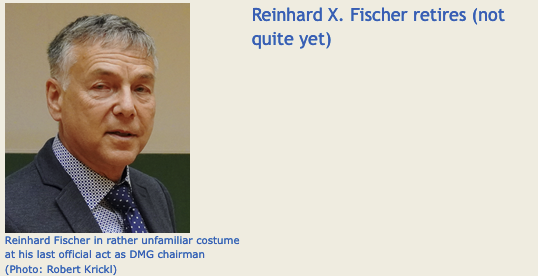 Older news klick here.