profiles of our scholarship holders of the Deutschlandstipendium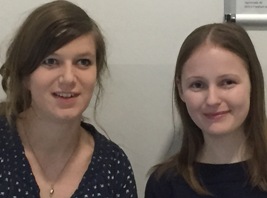 Mechthild: I am a student in the Master`s program Marine Geosciences and have been awarded the Deutschlandstipendium since the beginning of my Master`s degree and during a partial period of my Bachelor`s program. It is a great financial support and gives me the opportunity to deal more with geoscientific issues. Of course, the Deutschlandstipendium of 300 Euro per month cannot relieve me from having to work at all, but especially during the intensive learning phases, I have no need to work even then. In addition, I completed a semester abroad in New Zealand during my Master`s degree. During this time I lived on money put aside. The scholarship helped me a lot, especially in this costly and learning-intensive phase.
The Deutschlandstipendium is not only available for students with very good grades, but also for those who are socially committed, under high (working) strain or for those who have to cope with a financial hardship case. In addition, the scholarship is awarded to those who show a high degree of thematic commitment to their studies but suffer from a disability or learning disability. The most important thing in any case is to present the sponsors a letter of motivation and, if necessary, further letters of recommendation from teachers who give them the feeling that they do not want to reject the candidate under any circumstances. In other words, show them that you are worth it!
Based on my own experience, I can say that my performance has considerably improved during the funding period. This is, of course, not only due to the financial discharge. Rather, the confidence placed in my hands also plays a major role, which is one of the biggest motivators in my opinion.
In addition to the financial support, the Deutschlandstipendium offers much more. Networking with other scholarship holders and sponsors offers many new opportunities to actively shape one`s own future.
I will finish my studies in spring 2018 and am very grateful that the scholarship was granted to me during my Bachelor and Master studies. Thus I will be able to look for a suitable job in a strengthened and motivated way. I can only recommend to apply for the Deutschlandstipendium next year. It`s definitely worth it!

Verena: I`m in the third semester of my Master in Geosciences with the core subjects Geotechnology, Hydrogeology and Glaciology. Since the 1st October 2017 I receive the Deutschlandstipendium. I decided to apply for this scholarship because it lays a big focus on the social engagement of the applicants. Beside my studies it was always very important to me to take part in different social projects and get involved with activities in clubs. Though I had a lot of fun to work with children and young people during my function as a trainer in my sports club.
This is also the reason why I decided to do an internship at the German School of Nairobi. There I will pass my project exercise for the third semester and stay there for 12 weeks from the 6th of January. At the school I will get the opportunity to take care of some projects for the development assistance and to have an active influence on class.
Beside the social engagement there are lots of other factors which are important for a successful application for the Deutschlandstipendium. The focus is therefore not only on the marks but also on the effort beside the studies. So it is very helpful, if you successfully complete lots of voluntary internships and additional course achievements.
This is also a reason why I receive the scholarship. With the extra financial support I get from the Deutschlandstipendium, I have the possibility to reduce my work as a scientific assistant. Now I`m able to focus more on my studies and the engagement in the environmental conservation and animal welfare. Furthermore, the money from the scholarship helps me to finance my project exercise at the German School of Nairobi.

Do you want to be a sponsor,too?
Further informations:
http://www.uni-bremen.de/universitaet/foerderer-partner/deutschlandstipendium.html