8 good reasons to study Geosciences at Bremen University
You have choices!

You compose your personal B.Sc. study program by selecting 3 of 9 geoscience core fields.
Thereafter, you can choose among 3 M.Sc. programs in terrestrial, marine and materials geosciences.

You gain practice!

With us, you learn to work expertly with rocks, sediments, fossils, sensors, data and software.
You will develop your skills in scientific writing and presenting, in team and project management.

You learn outdoors!

Field courses, marine surveys and internships train geological thinking better than classroom lectures.
Excursions, field work, training cruises and industrial placements are essentials of your study agenda.

You fathom the sea!

The University of Bremen is the nationwide academic leader in marine environmental research.
No place in Germany is better to fathom the function and dynamics of the sea and the seafloor.

You join research!

A distinctive feature of our faculty is the close exchange between education and top-level research.
As B.Sc. or M.Sc. student you will contribute actively and originally to ongoing georesearch projects.

You study globally!

For an optional study term abroad, you choose from our Erasmus partner universities in 17 countries.
Two of our M.Sc. programs are taught in English and attract geoscience students from around the world.

You can dig it!

Bremen geoscientists count as competent and ambitious, but also as approachable and down-to-earth.
Student life in the Free Hanseatic City of Bremen has many qualities and is remarkably affordable.

You are welcome!

What counts, is your serious scientific interest in our planet Earth, its past and its future.
Your identity, origin, color, orientation, conviction and ideas are cordially welcome at our university.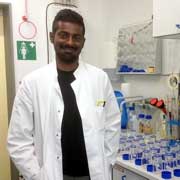 Niroshan Gajendra:
"I enjoy studying geosciences at Bremen University, because I get to work internationally with very different people while having a great course variety, like for example geochemistry.
Besides, I find the linkage of classic and applied geological disciplines with marine research very intriguing."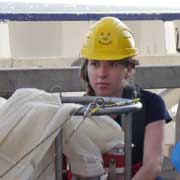 Mara Maeke:
"Studying geosciences at Bremen is great fun, because the study program is so incredibly diverse and we get to do lots of practical work from the start.
Moreover, one gets the chance to check into ongoing research projects early on."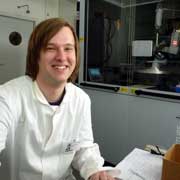 Jonas Schabernack:
"I really like my geostudies at Bremen, because here I can fully specialize on mineralogy, in a very interdisciplinary frame and with lecturers from all areas of materials research."